Community Block Party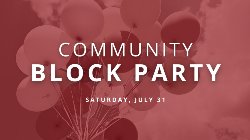 What

Community Block Party

When

7/31/2021, 12:00 PM

–

3:00 PM

Where

10222 Gulf Freeway Houston, Texas 77034
REGISTER FOR THIS EVENT: https://premierhighschools.com/houston-hobby/

A day for food, fun, and family hosted by Premier High School - Houston (Hobby) on Saturday, July 31 from noon - 3 p.m., at 10222 Gulf Freeway Houston, Texas 77034. We are Premier High School - Houston (Hobby), a tuition-free charter high school opening this fall, and we are excited to be a part of your neighborhood.

To show our appreciation for your warm welcome, we want to invite you to the future site of our campus for free food, door prizes, entertainment, and fun. The outdoor event will take place at 10222 Gulf Freeway, and it's completely FREE. Just RSVP or call 713-714-0061 for more information. We can't wait to meet you.

Premier High School is designed for credit recovery and early graduation for students who thrive in smaller, independent learning environments and may feel underserved at traditional public high schools. We are mastery-based, blended learning, college preparatory program with an emphasis on technology and one-on-one teacher/student interactions.

____


Un día de comida, diversión y familia organizado por Premier High School - Houston (Hobby) el sábado 31 de julio, del mediodía a las 3 pm, en 10222 Gulf Freeway Houston, Texas 77034. Somos Premier High School - Houston (Hobby), una escuela preparatoria charter gratuita que se inaugurará este otoño, y estamos emocionados de ser parte de su Comunidad.

Para mostrar nuestro agradecimiento por su cálida bienvenida, queremos invitarlo a nuestra escuela para que disfrute de comida gratis, premios, entretenimiento y diversión. El evento al aire libre se llevará a cabo en 10222 Gulf Freeway y es completamente GRATIS. Simplemente confirme su asistencia o llame al 713-714-0061 para obtener más información.

Estamos ansiosos por conocerlo. Premier High School está diseñado para la recuperación de créditos y la graduación de los estudiantes que prosperan en entornos de aprendizaje más pequeños e independientes que pueden sentirse desatendidos en las escuelas públicas tradicionales. Somos un programa de preparación universitaria basado en el dominio, de aprendizaje combinado, con énfasis en la tecnología y en las interacciones individuales entre maestros y estudiantes.
Copy to Google Calendar
•
Download iCal Event